What are all supporting documents to be uploaded online after completing Section A & Section B
Let's take a look
This list has changed on 11/12/2019 please contact us for the list and we can send you an update on the exact requirements
Step 1 – Click on "Upload Documents".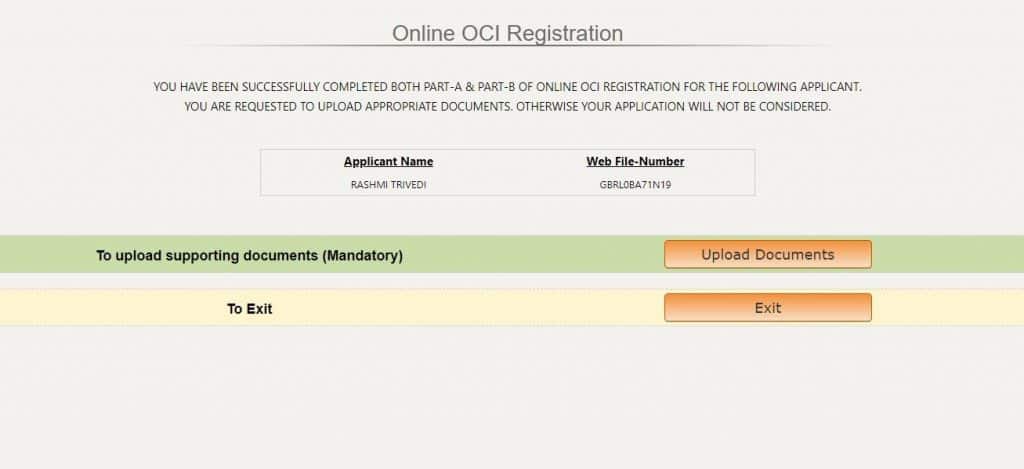 Please note:

1) For this section, you need to upload the scanned copies of your documents.
2) The signed application form (and other documents) will still have to be submitted at VFS centre in person.
3) We shall also go through OCI documents checklist for UK that needs to be submitted at the VFS centre.
Step 2 – Following is the list of documents to be uploaded online for a new OCI application
This list has changed on 11/12/2019 please contact us for the list and we can send you an update on the exact requirements
Step 3 – Other additional docs (depending on your application)
Indian visa (where applicable): If you hold an Indian visa (with validity over 3 months), please upload a copy of the OCI.
Spouse card and marriage certificate: if "spouse" is the basis to your application.
Relation Card: parental / grandparent birth certificates depending on your application PIO card.
If you are applying for renewal of the OCI card please upload the copy of your OCI card
Step 4 – After verifying click "Final Submit" to submit your application, The button will then change to Generate Application Form. Click on it to download the application
Step 5 – take a print of this.
Step 6 – The next step is to book an OCI service appointment at VFS United Kingdom (or CKGS in USA) now that you have the OCI application form.
As you need to submit all documents in person VFS along with the OCI application form, Including paying the fees. The documents need to be self attested photocopies along with originals.
Note: The file size for documents needs to be less than 1MB. If the scanned document is of high resolution ensure to use a pdf compressor online. If you have any difficulties uploading these documents, please get in touch with us and we will be happy to assist you