Visit us in Paddington for our OCI help Service

Our OCI Help Service based in Paddington, London can assist you on obtaining your

OCI VISA

or your entire family and our OCI help fee includes everything you will need to your OCI visa. We even include your OCI passport photos in our fee.

Our OCI Help Service includes everything you need to get your OCI

– Our Full OCI Help Service is £99.99 for 1st Applicant & 20% of further Family members

– OCI Document list is provided for your OCI application

– Passport photos included worth £14.99 & all colour printouts and copies included

– Booking to any VFS center in the UKGuaranteed success service or redoing it for free*
Book an appointment with an OCI Agent & visit us in Paddington.
It is only 4 simple steps to get your OCI Visa Booklet.

Step 1: MAKE A BOOKING BELOW to visit us in Paddington at a time that suits you.

Step 2: We will send you an up to date OCI document list based on your circumstances

Step 3: We will complete everything for you including taking photos in our photo studio.

Step 4: We will give you all of the paperwork and book an OCI appointment for you at VFS and you will receive your OCI in 4 – 6 weeks after your appointment. If you face any issues at VFS, we will be at hand to assist you.
OCI Fresh application service prices
1 Applicant for OCI Help Service – £99.99

2 Applicants – 20% Discount on 2nd applicant

3 Applicants – 20% Discount applied on both 2nd and 3rd applicants

4 Applicants – 20% discount applied on 2nd, 3rd and 4th applicant
Have Questions on our service? Please call us on 02071939293
We can only answer questions after you have made a booking so please only call with your reference number or booking time and date or we will be unable to help.
All of other Visa Help Services listed
As featured on Sunrise Radio
We will email you a comprehensive OCI document requirement list as soon as you book an appointment to visit us.
Booking at your nearest VFS center in included
Reload offers a guaranteed pass service*
Our service includes everything that is required to obtain your OCI including your passport photos which we snap in store for you
HAVE QUESTIONS? CALL US NOW

Please call us on 0207 193 9293 or email us at help@nullreloadinternet.com if you have any questions at all. We are always happy to help
Watch the video review from celebrities that have got their OCI Visas through Reload OCI. Book in Confidence
Why choose us your OCI Agent in the UK?
Established in 1998, Convenient Central London Location
GDPR Compliant
Covid 19 Safety Procedures in place Strict procedures
HSBC Start up awards London Finalist in 2006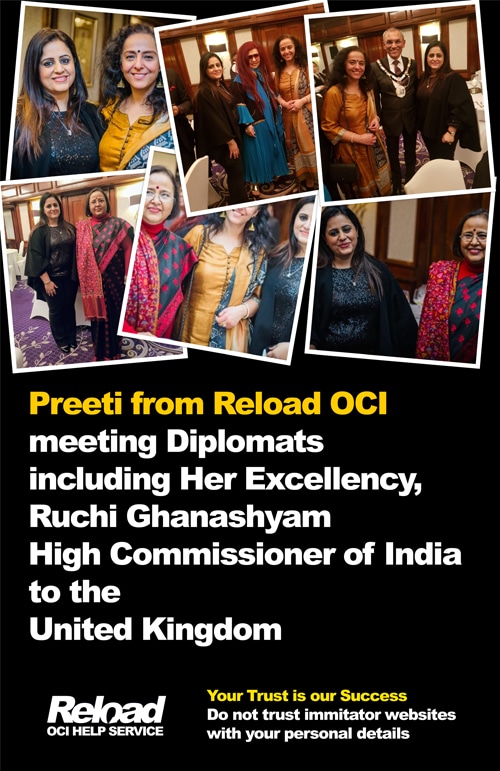 Do not trust imitator websites with your Passport and Personal details - Choose Reload OCI Help Service in Paddington