We offer a fully inclusive Indian Passport Renewal Help Service at our location in London Paddington. We take care of every part of obtaining your new indian passport with a guaranteed pass service*.
We will navigate you through the Indian Government's confusing and frustrating online Indian Passport Renewal Application seva forms. Our staff have completed thousands of successful applications with the Indian Government.
Our experienced staff take care of all the worry and frustration by dealing with your entire Indian Passport application from start to finish, including advising which documents are required, scanning, resizing and taking care of all document uploads for your Indian Passport Renewal Application – and we will even handle your booking appointment with VFS at any center in the UK.
Our Price includes everything you will need to get your Indian Passport renewed including a full guarantee you will pass at VFS* and we include police verification in our Passport Renewal service. We will also include your Indian Passport photos (with studio grade lighting) in our fee and this will be taken for you instore when you book an appointment to visit us.
Please make a booking to visit us in Paddington:
Why use our service for your Indian Passport Renewal instead of doing it yourself?
We are up to date with all of the rules and regulations and even missing one document or an incorrect upload will result in a failed Indian Passport Renewal and a wasted day at VFS. We will get you through all of the regulatory hurdles. Book an appointment to visit us today
HAVE QUESTIONS? CALL US NOW
Please call us on
0207 193 9293
or email us at help@
null
reloadinternet.com if you have any questions at all. We are always happy to help
What documents do I require for my Indian Passport Renewal Application?
After you have booked an appointment with us we will email you the exact documents list that you will require for your Indian Passport application. The document requirement list varies according to the type of passport application you require.
Do I need a Police Clearance Certificate for Indian Passport Renewal?
You will require a police verification form for Indian Passport renewals. This form contains your personal details and a photograph and will need to be submitted along with your Passport Application.
Additionally you will need to fill an Annexure E and VFS declaration form which we will provide.
We include police verification in our Passport Renewal service.
Indian Passport Photo Specifications
Our service has exclusively partnered with Reload and the Indian Passport photo requirements are as follows:
The photograph will be of a size of 2 inches x 2 inches (51 mm x 51 mm) and printed on the highest grade photo paper available.
We will use a white background for youir Indian Passport photo.
Head coverings are permitted if it is for a religious reasons BUT we will ensure that your ears do show.
The height of your face will measure ion the photo: 1 inch to 1-3/8 inches (25 mm to 35 mm).
Indian Passport Photo for Infants or Children
Child's indian passport photograph / Infant Indian Passport Photo requirements.
These include:
Photograph baby with her/his eyes open
The Indian Embassy allows under one year olds to keep their eyes closed
the rules are relaxed for Babies and infants and Children under ten years of age
Why choose us for your Indian Passport Renewal Application?
Established in 1998, Convenient Central London Location, GDPR Compliant
Are we afffiliated with the High Commission of India or VFS Global?
Oci-help.com and Reload are NOT affiliated with the Indian Embassy, High Commission of India or VFS Global.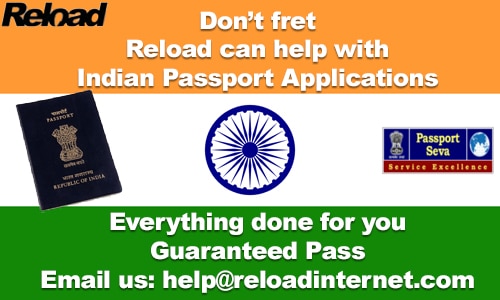 We provide consultancy services and Indian Passport application form filling help for the Indian Passport and OCI form filling process.
This service is owned and operated by Atomic Internet Limited
* Should you fail for any reason, or should VFS require more documents from you, we will redo the whole application for you without charge